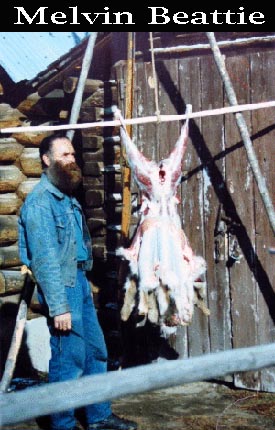 Wet-Scrape and
Dry-Scrape Hide Tanning
Tips, Techniques, and Trouble-Shooting for Braintanners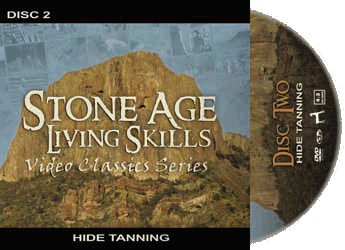 The Tanning Spirit
The Tanning Spirit is a 45 minute video for the beginner and for the seasoned tanner. It is included with The Ancient Art of Tanning Buckskin on Disc Two of the Stone Age Living Skills Video Classics Series.

The Tanning Spirit covers the accumulation of thirty-seven years of trial and error methods of brain tanning I call "The Tanning Spirit."



The video takes you from skinning a deer to a finished and smoked tanned hide, ready to be made into usable articles. Please see Thomas J. Elpel's Participating in Nature: Wilderness Survival and Primitive Living Skills for text to compliment the video.

I have spent years perfecting the various skills and tools that are used in the video. If you need additional help or clarification of any part of the video, please review these Notes and Updates to Tanning Spirit or contact me at the address below.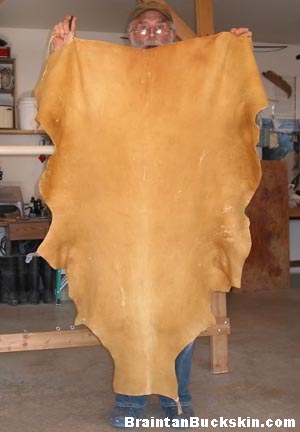 Braintan Buckskin by Melvin Beattie
There is nothing in the world quite like the look and especially the feel of genuine hand-crafted braintan buckskin clothing.

When you wear braintan buckskin clothing you connect with the ancients who wore the buckskins every day of their lives for thousands of generations. Genuine braintan simply feels real in a way that nothing else can compare.

For those who want to tan their own hides, be sure to check out our video covering both wet-scrape and dry-scrape methods. And for those of you who lack either the time or the will to tan your own, I often have quality braintan buckskin in stock.

Braintan is great for clothes for primitive living, mountain man rendezvous and Native American dress and beadwork.
Looking for top quality braintannned hides?
Each year we also have a limited number
of raw skins available for tanning.

Please Contact:

Melvin Beattie
7570 Longacre Drive
Helena, Montana 59602
Want to make your own buckskin clothing?
Learn to tan hides, sew buckskin, and design your own clothing!
Check out the Hunter-Gatherer Immersion Program at Green University® LLC.