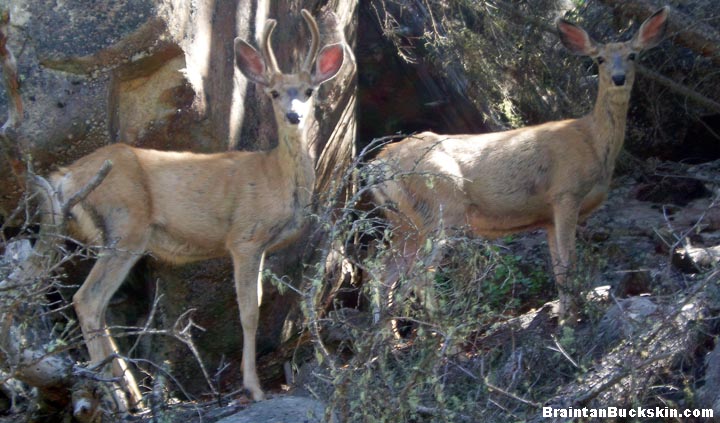 Braintan Deer Hides, Classes, Articles, and Raw Skins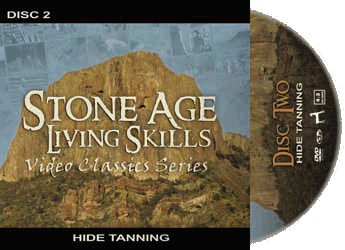 Have you ever wanted to tan your own hide? There are many different methods to braintan a deer hide - or at least many variations on the same basic process. For example, the hair can be removed by a wet-scrape or dry-scrape process, and the hide can be softened by hand-pulling or by racking and staking. These methoods are all covered in the videos The Tanning Spirit and The Ancient Art of Tanning Buckskin, both included on Disc Two: Hide Tanning, in the Stone Age Video Classics Series on DVD. Other common variations include methods such as fresh-scraping a hide, bucking the hides with substances like Potassium Hydroxide (KOH), or pre-smoking the hide at some point before or duing the softening process. Anyone who tans hidess long enough will develop their own unique twist on the process, and develop a preference for certain types and styles of tools.

Melvin Beattie, featured in The Tanning Spirit, was one of a handful of people who helped recover the nearly lost art of braintanning hides. Working largely through trial and error over many years, he developed an all natural wet-scrape process that doesn't require chemicals like KOH, which can potentially weaken the final product.

Do you want to tan a deer hide or order finished braintan buckskin? Check out the links below for articles, videos, and sources of raw and finished deer hides.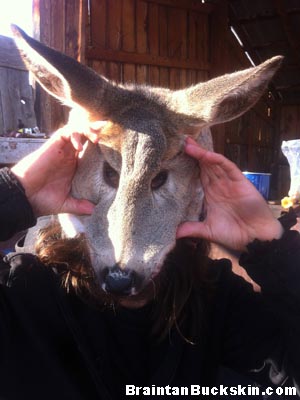 Sources for Braintanned Deer Hides
-Melvin Beattie
-Trapline Lodges
-Circle S Leather
-Kentucky Leather and Hides
-Braintan Buffalo Robes and More
-Traditional Tanners
-Rocky Mountain Braintan
Possible Source for Raw Deer Skins for Tanning
-Melvin Beattie (Montana)
-Trapline Lodges (Montana)
Braintanning Classes
-Green University® LLC Hunter-Gatherer Internship
-Directory of Primitive Skills Gatherings
(Braintanning is taught at most gatherings.)
-Wilderness Survival & Primitive Living Schools of North America
(Most of these schools offer tanning classes.)
-Schools of Europe, Australia & New Zealand
(Many of these schools offer tanning classes.)

Articles about Braintanning Deer Hides
-The 3 Most Important Steps Before Brain Tanning
-Basic Steps in Brain Tanning Buckskin
-How To Brain Tan by Robert Retallick
-Fresh-Scrape Braintan Buckskin Tutorial by Patrick Farneman
-Brain-Tanned Buckskin (Dry Scrape Method)
-Brain Tanning Hides
-Brain tanning a Deer Hide by Xavier de la Foret
-Native American Braintanning at the Time of Contact by Matt Richards
-How to Brain Tan a Deer Hide
-Making Buckskin by PaleoPunk
-Use Your Brains: Tan Your Hides
Books and Videos about Braintanning Deer Hides

Fleshing and Scraping Tools for Hide Tanning

More Videos about Braintanning Deer Hides
---
---
---
---
---
---
---
---
---
---
---
---
Return to BraintanBuckskin.com Home Page