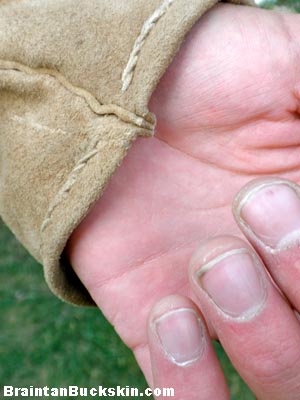 Crafting and Sewing with Buckskin:
Books, Articles, Classes, and Videos
Crafting and sewing with buckskin is truly exciting and just a little bit terrifying. How do you make that first cut after all the hard work that went into fleshing, scraping, and softening a beautiful hide? You can measure and plan and make patterns, but at some point, you just have to go for it and hope everything turns out all right!

There are many different approaches to making patterns and sewing, and most of the guidebooks for tanning buckskin also include a section on sewing and making clothing. Sewing is often done as a two-step process, by first poking a hole through the skin with an awl, followed by pushing through the thread or thong. A glover's needle greatly facilitates the process, because it has a sharp, three-cornered tip that cuts through the buckskin, enabling a person to make the hole and run the thread through in one pass, as described in Participating in Nature: Wilderness Survival and Primitive Living Skills. Optionally, an s-curve needle (or s-needle) with a cutting tip is also handy for sewing buckskin, and a good s-needle has a large enough eye to facilitate sewing with buckskin thong.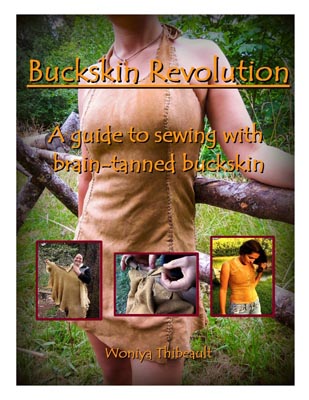 Buckskin itself is a timeless material, utilized by our ancestors for thousands of years. Nevertheless, the art of making clothing is subject to lifestyle changes and fashion trends. When the craft of braintanning was revived from a nearly lost art, most early braintanners looked to the mountain men and Native Americans for traditional buckskin clothing designs. People made beautiful, authentic clothing that was ideal for historical reenactments and primitive skills gatherings, but couldn't be worn downtown without becoming a spectacle. Consequently, the emerging fashion trend is to make buckskin clothing for everyday wear, even down town.

You can learn the art of making buckskin clothing through the buckskinning guidebooks mentioned above, through the articles and videos listed below, or with the aid of expert guidance from instructors at the many primitive skills gatherings around the country. Best of all, Woniya Thibeault will soon be publishing her comprehensive guidebook, Buckskin Revolution: A guide to sewing with brain-tanned buckskin, covering all the finer details of making, fitting, and sewing fashionable buckskin clothes. Check out the links below for articles, videos, and patterns to get started making your own buckskin creations.
Articles about Crafting and Sewing with Buckskin
-Simple Buckskin Summer Shirt by Xavier de la Foret
-Buckskin Pullover by Xavier de la Foret
-Buckskin Dress by PaleoPunk
-Buckskin Pants by Xavier de la Foret
-Leggings Tutorial by Robert Retallick
-Construction of Buckskin Leggings by Thompson, Obermeyer and Mott
-Overview of Footwear, Moccasins by Tara Prindle
-Moccasins 101: How to make one-piece moccasins
-How to Make Moccasins by Judy Kavanagh
-Instructions for One-piece, Soft-sole, Center-seam Moccasins by Tara Prindle
-Making Creek / Seminole Moccasins by Rick Obermeyer
-Moccasin Boot Hybrids - Old Meets New by Joe O'Leary
-Side Fold and Winter Moccasins
-Winter Moccasin Making Instructions Part 1 & Part 2 (PDFs) by Dave and Kielyn Marrone
Books and Supplies for Sewing Buckskin

Patterns for Sewing Buckskin Moccasins

Videos about Crafting and Sewing with Buckskin
---
---
---
Want to make your own buckskin clothing?
Learn to tan hides, sew buckskin, and design your own clothing!
Check out the Hunter-Gatherer Immersion Program at Green University® LLC.
Return to BraintanBuckskin.com Home Page